News
Autumn Newsletter
October 2023
Our Autumn 2023 Newsletter has news and photo's from the 140th Anniversary Monopoly Challenge at the end of September and information on events coming up this side of Christmas. It has gone out in the post today to Captain, Correspondents and Leaders in Charge around the Battalion, and can be viewed online here - Autumn 2023 Update, 13Mb pdf or on our Padlet.
Training Courses and Events Booking
September 2023
We have just launched our Online Events Booking Portal at glasgowboysbrigade.cademy.co.uk you can book for training courses and also the Anchors / Juniors Panto, other events will be added. We can accept online payment, or if you'd like a different payment method select Cash as the payment option. You can still book directly with us at the Battalion office.
Queen's Badge Certificate Presentation 2023
June 2023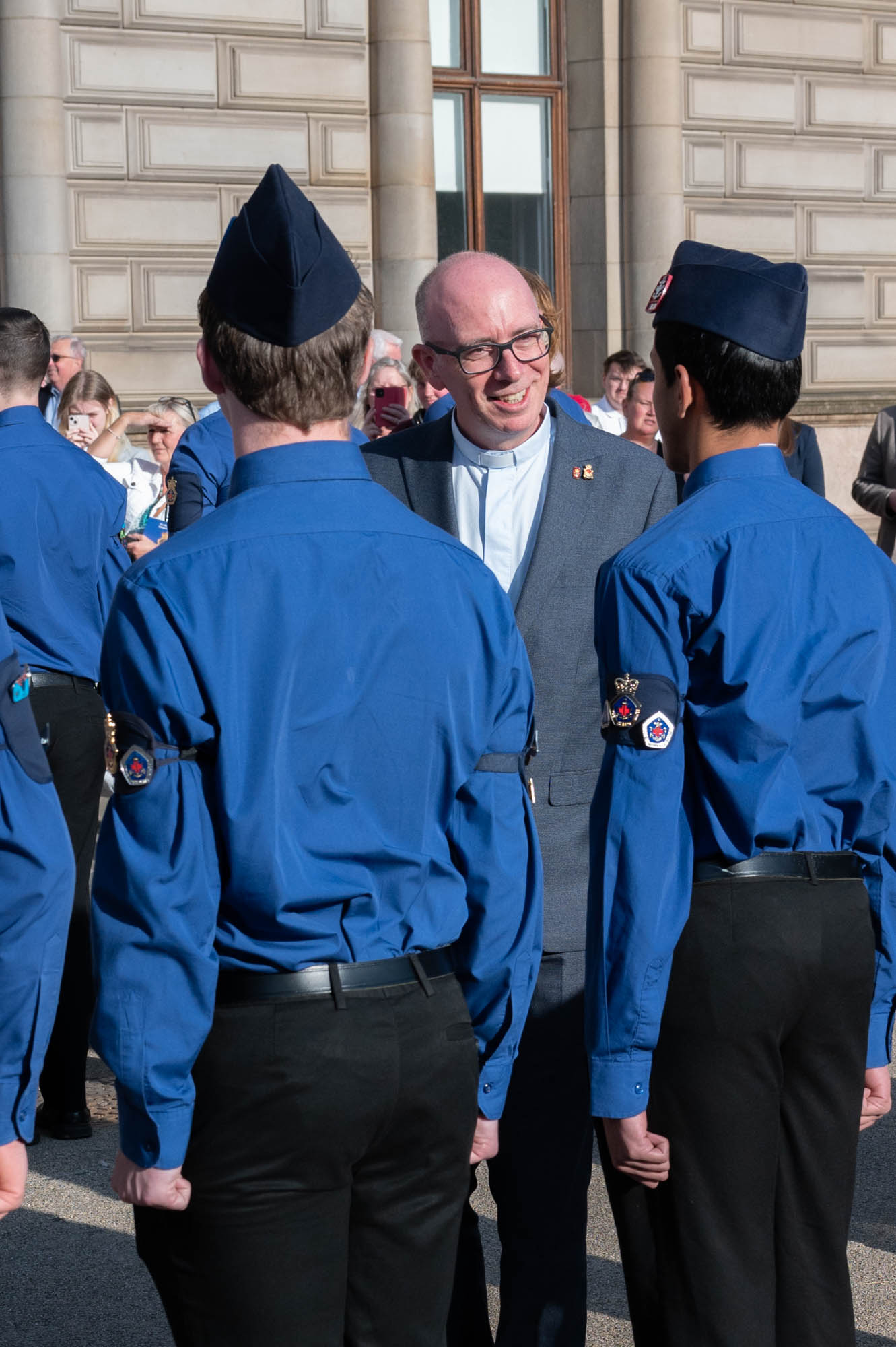 Our Queen's Badge Parade and Certificate Presentation gave the Boys' Brigade another opportunity to showcase the work that our young people are involved in as part of the organisation. 43 Queen's Men from around the Battalion and other local Battalions were invited along to receive their certificates at the ceremony in the City Chambers on 8th June.
Two of our Queen's Men, Lewis and Glen, gave a presentation on the work required to gain the award including volunteering within their Companies & Churches, volunteering in their wider local communities and working on their own skills and a physical interest.
The Lord Provost, Jacqueline McLaren, extended a welcome and congratulations from the City. Our Chief Guest, Rev Stewart Cutler, National Chaplain of The Boys' Brigade UK & ROI, inspected Queen's Men in George Square, presented their certificates and gave an encouraging address.
Our thanks to the Band of the 25th Stirling (Dunblane) BB Company for their playing inside the City Chambers, and to the 130th and 205th Glasgow Companies whose Bugle Bands combined and lead the parade to George Square.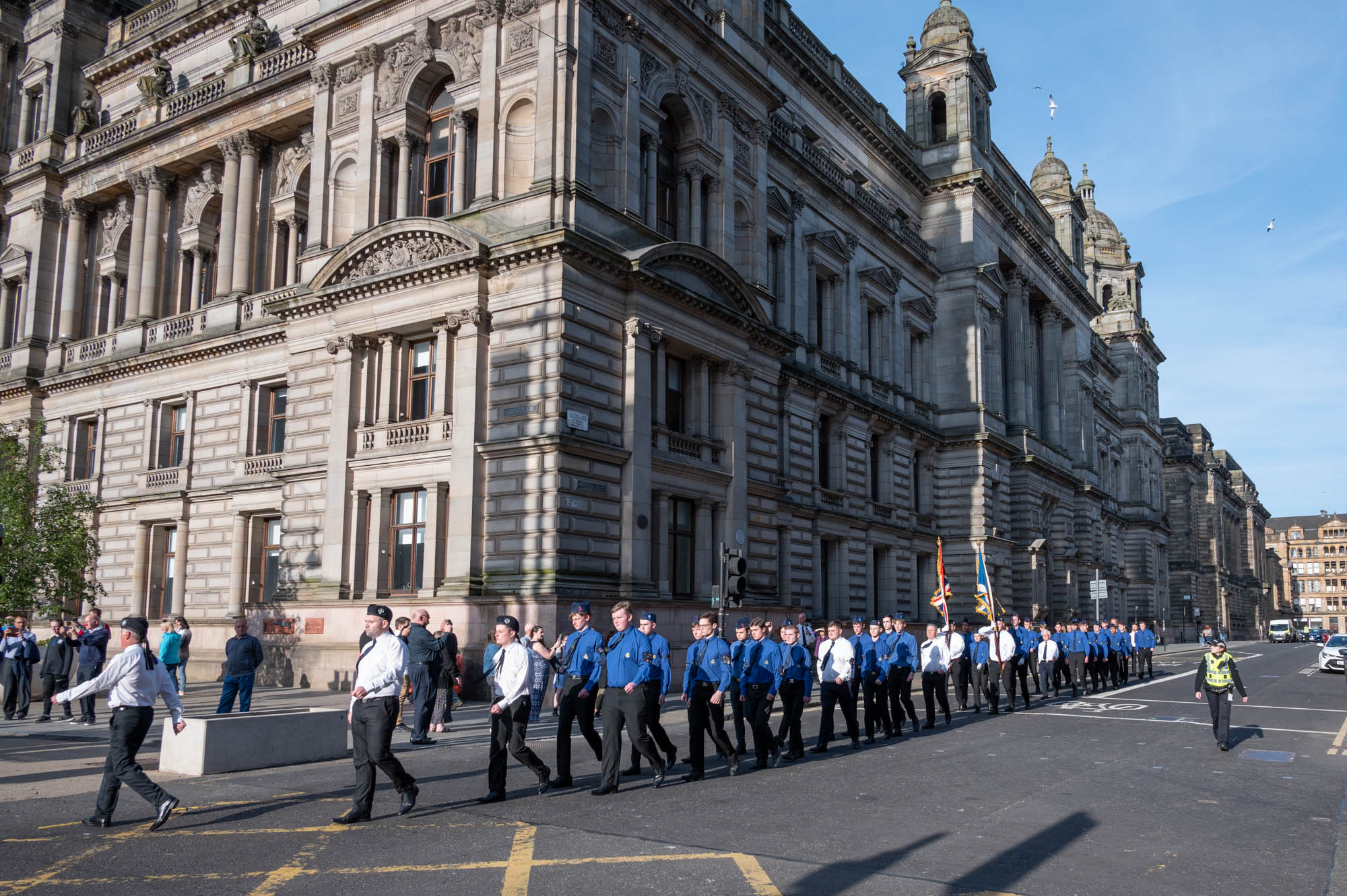 Glasgow Landmark rebranded to celebrate our 140th
April 2023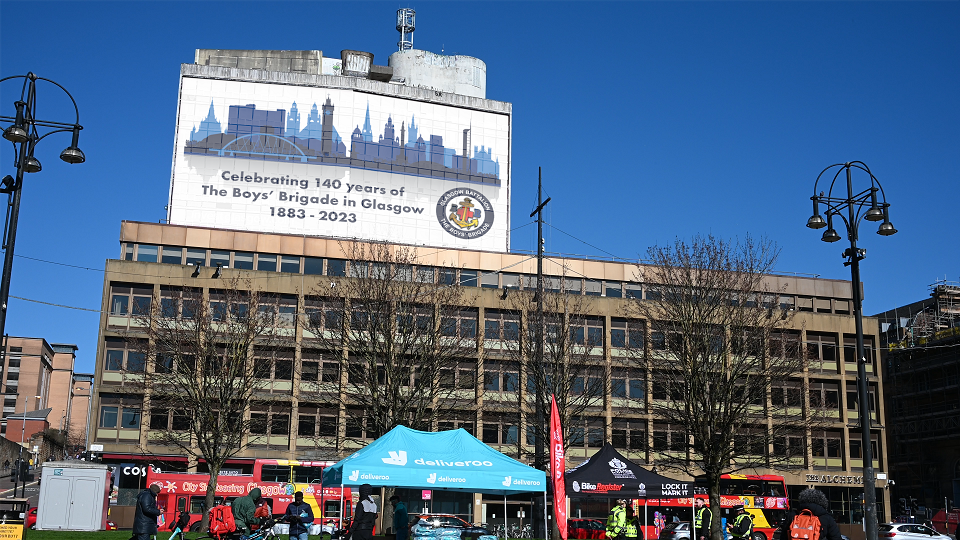 We marked the 140th year of the BB's formation, on April Fools Day, by painting the anniversary logo over the People Makes Glasgow sign on the former College of Building and Printing, the prominent building overlooking George Square and the City Chambers. What better way to kick-off our 140th Anniversary celebrations than on a building visible to most of the south side of the city on 1/4.
We used a completely natural water based paint containing a mixture of tree and plant extracts, a formula developed by our own members, consisting of Ash-bark, Poplar-leaves, Rowanberries, Ivy-leaves, Lavender-leaves, Fir-bark, Olive Oil and Loganberries. The paint has a lifespan of 8 hours beforing melting away, our thanks to the City for allowing us to do this.
Juniors Kurling Competition
February 2023
We held our first Juniors Indoor Kurling competition on Saturday 25th February with nine teams taking part from across the Battalion.
The quality of the competition improved as the morning went on as the Boys got a feel for throwing the stones. The 137th Glasgow were winners, with 135th Glasgow in second place and 4th East Kilbride third. Well done to everyone who took part.
The Kurling sets are amongst the resources that we have available to companies from within the Battalion, contact the Battalion office for more information.
Juniors Ten Pin Bowling
January 2023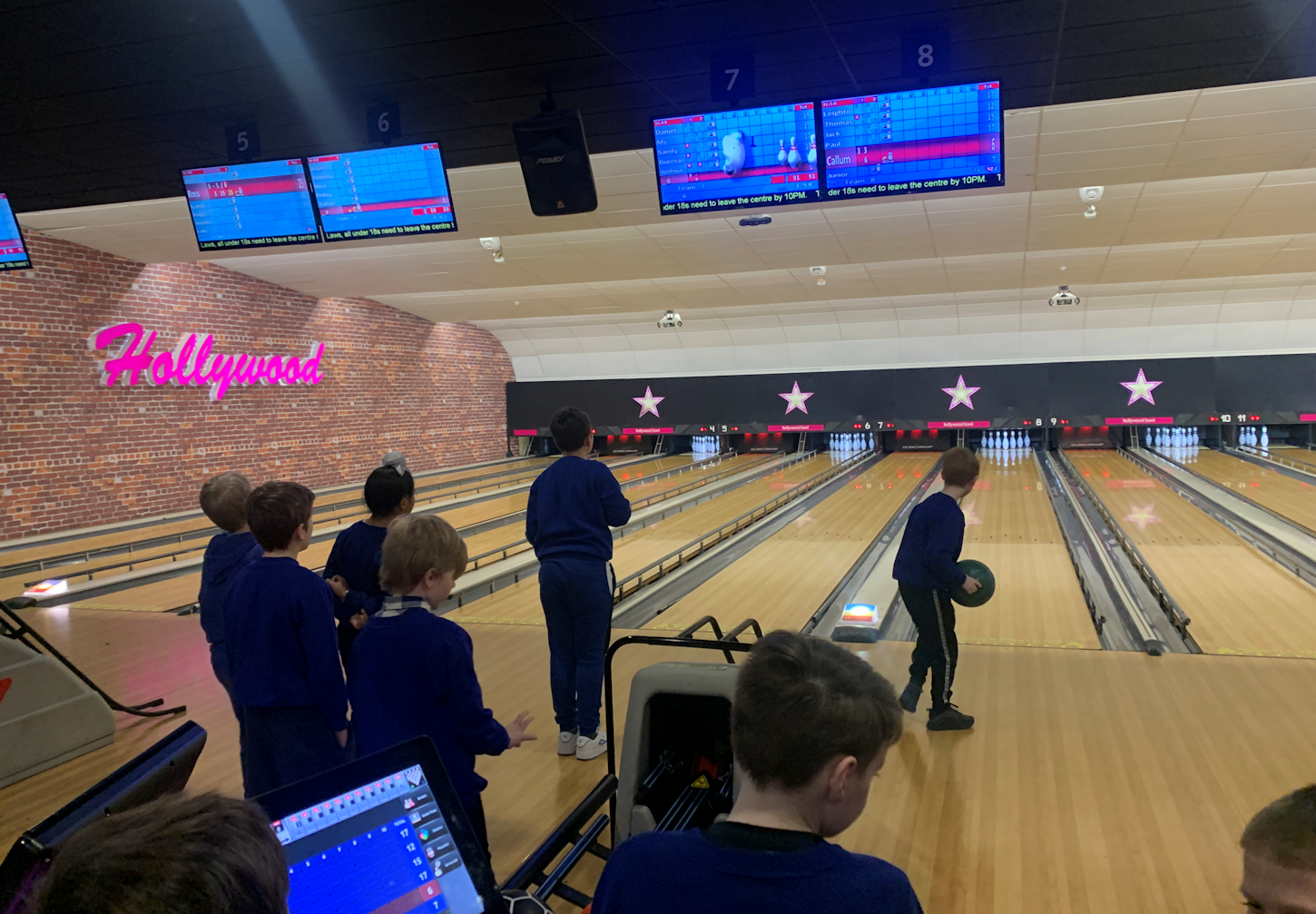 For the first time since 2020 we were able to hold our Juniors Ten Pin Bowling morning at The Quay on Saturday 28th January, we had 59 Boys along from 6 Sections, and while the scores may not have been too high, there was at least one Strike and lots of fun.
Glasgow the Caring City - Ukraine appeal
May 2022
We are joining with Clyde Scouts, Girls' Brigade Glasgow and Girlguiding Glasgow to support Glasgow the Caring City and their Ukraine appeal.
We are looking for new items to send to young Ukrainian refugees trying to attend school in Poland.
Can you support by dropping off any of the following items?
Backpacks
Notepads/Jotters
Pencils/Pens/Rubbers/Rulers
Pencil Cases
Small cuddly toy
We ask that the items are new and unused and are dropped off within the specified times, Tuesdays - Thursdays, 11am - 3pm at Battalion HQ, or Wednesdays & Thursdays, 12pm - 5pm at the Scout Shop, 21 Elmbank Street.
A message from Ross at Glasgow the Caring City:
"Amongst the urgency for medical aid, food and shelter there are human needs of a much softer nature. As Ukrainian refugee children are welcomed into schools across Poland, the need for a school bag and some pencils may sound basic but it's part of the return to normality for these children.
Glasgow Caring City has several trucks per week to Poland and is calling on kids across Glasgow/Scotland to support their peers at this time of crisis."
We appreciate your support.
Christmas Colouring Competitions
February 2022
Thanks to all those who coloured in one of our pictures for the Christmas Colouring Competitions for both Anchor and Junior Sections, we had over 130 take part with a mixture of email and paper entries. The ongoing work from home guidance throughout January delayed the judging of the paper entries but certificates have now been sent to all the Sections that took part to pass on to their members.
Over 11s Awards Update
June 2021
This video presentation provides information on the update to the Over 11's Awards.
Leaders Information Resource
May 2021
We have produced quicklink resource centre using a web facility called Padlet detailing a number of links to some of the most used documents and information resources currently being accessed by Leaders.
Items can be added and we would be happy to receive comments on potential additions.
Find our Padlet page here
Art Competitions 2020/21
March 2021
We held Art Competitions for each Section, just as we did this time last year. For Anchors we had the Easter Colouring Competition, and for Juniors, Company and Seniors we had Art, Writing and Photography competitions. Anchors and Juniors were due by 31st March. Company Section and Seniors entries were due by 23rd April.
Thanks to all those who entered. Our judges have been looking at the entries and we'll be issuing certificates shortly.
JS Sports
January 2020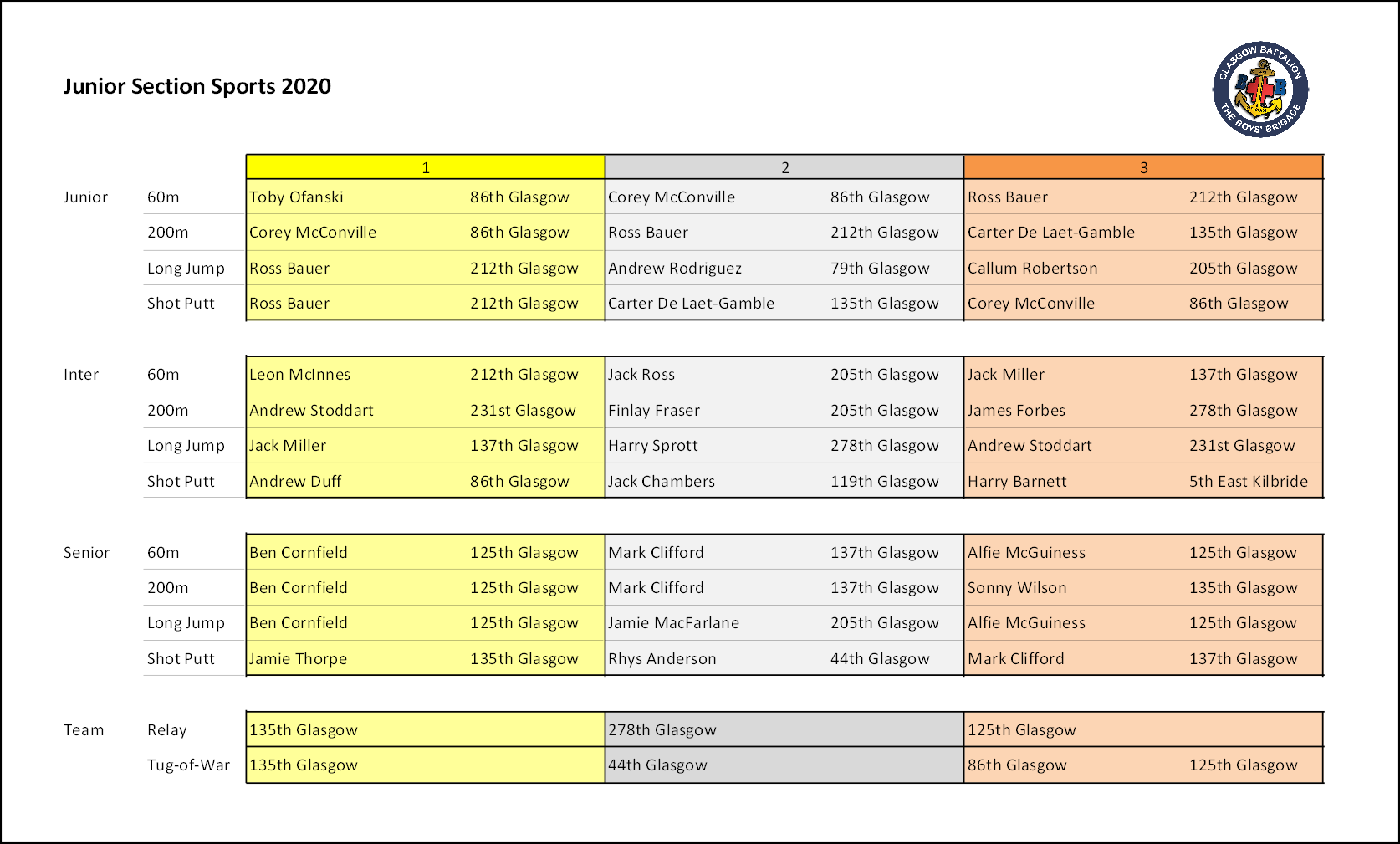 Our Junior Section Sports event took place at the Emirates Arena on Thursday 16th January. We had nearly 200 Boys along from 23 Sections our biggest turn out at the Emirates to date. The image here shows all the medal winners, we don't have a cup for best Section which is just as well as it would have been a tie between 86th and 135th Glasgow Companies.
Anchors Lego Morning
October 2019
We had forty Anchor Boys along to the first of the sessions Anchors Lego Activity mornings at HQ on 26th October. The Boys came along to have two hours of Lego fun, building battery powered Lego cars, 3d models of Superheroes and flat mosaic pictures or just playing with some of the masses of Lego which was available a good day was had by all.
The BIG Footprint
April 2019
The BIG Footprint
On the morning of Saturday 20th April members of Boys' Brigade, Girls' Brigade and The Guild joined together to take part in The Big Footprint. The theme for Rt Rev Susan Brown's year as Moderator of the General Assmbly of the Church of Scotland has been "walking with..." and the aim of the BIG Footprint was to get generations walking together. Setting off from Glasgow Cathedral members of the organisations, family and friends headed down High Street and Saltmarket, crossed four of the bridges over the Clyde then headed back up Buchanan Street and St Vincent Street to St Columba (Gaelic) Church of Scotland for hospitality and refreshments. Over the course of the 90 minute walk there was plenty of time for chat and getting to know new people and catching up with old friends. The Moderator was able to join us for nearly all of the journey but as we headed up the last stretch of St Vincent Street she was turning around to get the train to Edinburgh to do it again there in the afternoon.
Anchors Lego Activity Morning
October 2018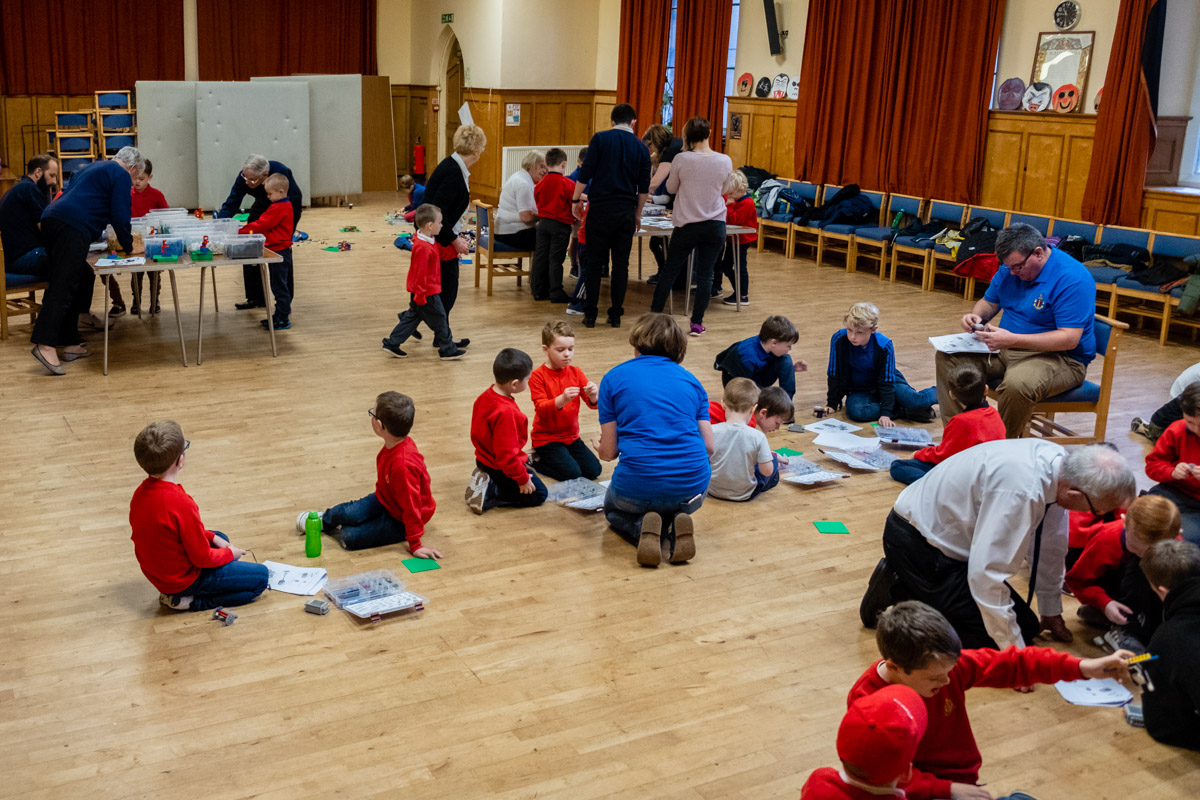 Our Lego Activity Mornings for Anchor Sections have been very popular over the last three years and our latest took place on Saturday 20th October, with 40 boys from 8 Sections at HQ for the morning.
Over the course of two hours boys moved around a number of different activities, traditional blocks and baseplates, making 2d characters and logos, 3d superhero figures, decorating spinning paper plates and building a battery powered dragter.
If you missed out this time we're planning another date in January.
Juniors 100 Challenge Day
October 2017
It was our Juniors 100 Challenge on Saturday 30th September, we had over 120 Junior Section members from all across the Battalion at HQ to celebrate the 100th Anniversary of the formation of the Boy Reserves, now the Junior Section, and take part in a number of the 100 Challenges set by BBUK to mark the occasion, at last count 36 of them were on offer.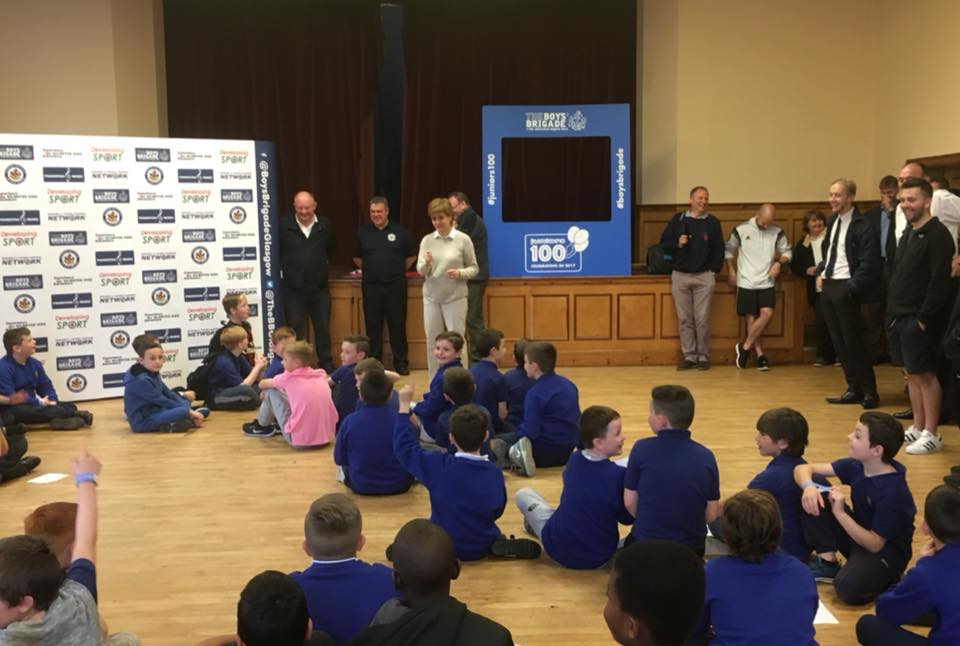 One challenge was to meet a local politician, our local MSP at Battalion Headquarters is First Minister Nicola Sturgeon and we were delighted she was able to drop in for a visit, she went round to see the activities and as the Boys gathered at the end of the event she said a few words before cutting our Juniors100 birthday cake.
Other challenges on the day included plate spinning, learning to say hello in 10 languages, eating a donut without using your hands, learning a new sport, doing a 100 piece jigsaw, getting a photograph with an item more than 100 years old (the Battalion's Senior Football Trophy), designing a unifrom for 2117, building a tower with 100 2p pieces, and the list goes on.
Centenary of the Battle of the Somme
July 2016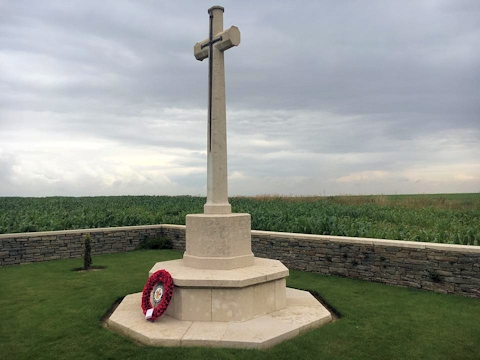 The commemoration events to mark the centenary of WW1 are now approaching the end of the second year. Many know about the links with Glasgow institutions to the Pals Battalions, particularly that of the 16th Highland Light Infantry and The Boys' Brigade, Glasgow Battalion. The anniversary of the start of the 5 month Battle of the Somme was marked nationally on July 1st with events throughout the UK and in France.
To recognise and reflect on the history of the association with the 16th HLI, Jim McVean, Secretary of Glasgow Battalion The Boys' Brigade laid a wreath at New Munich Cemetery during a visit to Thiepval, Authuille and Beaumont-Hamel. These were just 3 of the key locations where the 16th HLI fought during this battle.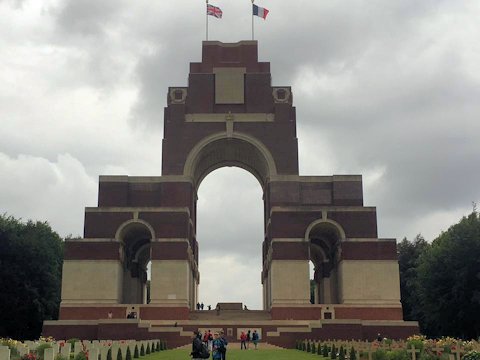 Jim said, 'It's humbling to be involved with a commemoration like this and there are really no words adequate enough to describe my feelings. I've read many things about the First World War and the 16th HLI history with the Boys' Brigade and have a personal interest as my grandfather fought here in the latter part of the conflict. I have his medals at home, including the Military Medal he received in 1918. You can't imagine what this part of France looked like 100 years ago when you see the green fields and the flowers. The monument at Thiepval is an amazing sight but you cannot really comprehend the numbers who fell during the battle.'
Fairtrade BB Football
June 2016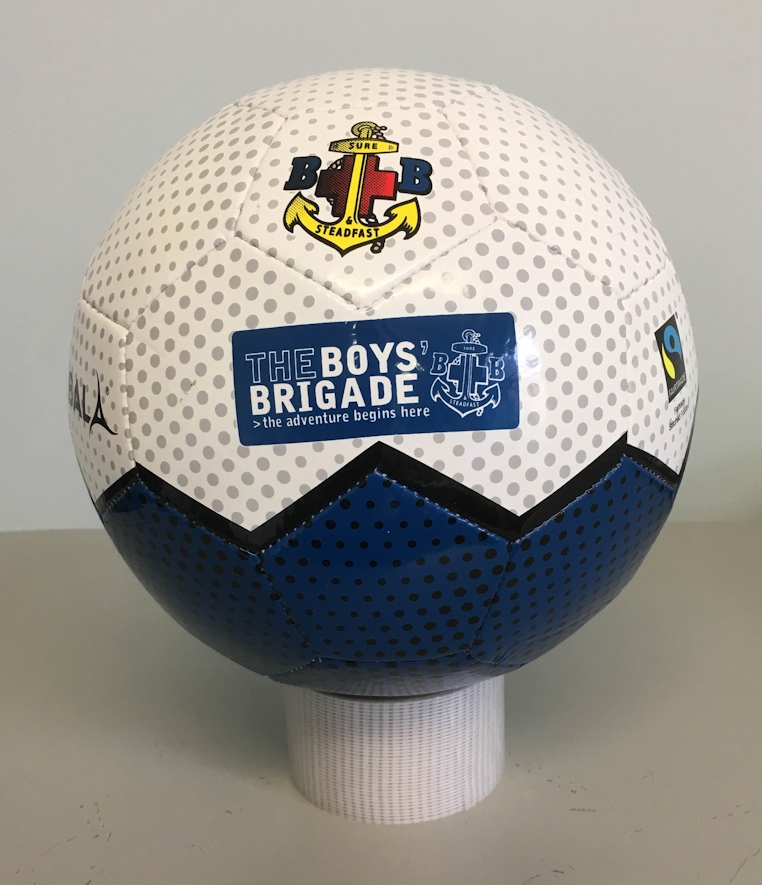 We have teamed up with Bala Sport to produce a limted number of Size 5 Boys' Brigade badged Fairtrade footballs. The balls are half white / half navy blue - the white half has silver/grey dot details with the BB Anchor and Boys Brigade badge on each side, along with Fairtrade and manufacturer logos, the lower half is navy blue with black dot details.
They are available to purchase from the Battalion office for £15 each, they are supplied deflated for easier transport. Postage cost within the UK is £3.50 each. Contact us at the Battalion Office to order, we have them listed on eBay but they are more expensive there to cover costs of selling.
The balls have been manufactured for us by Bala Sport and are hand stitched in Pakistan. Bala Sport is a co-operative style organisation, it was set up to expand the availability and use of ethically produced Fairtrade sports balls (focusing initially on footballs) in the UK and beyond. When a high quality Fairtrade certified football is sold in the UK the buyer is guaranteed that the men and women who made these hand stitched products are paid a fair wage and benefit from fair working conditions and also the additional Fairtrade Premium.
Pipe Band make Competitive debut
August 2015
Our Pipe Band made their competitive debut on Saturday 15th August at the World Pipe Band Championships at Glasgow Green.
The band is comprised of young people and leaders from a number of companies within the Battalion, many of whom have taken part in the Piping & Drumming courses held annually since 2010. They compete in grade 4B and came in 13th place from 18 in their qualifying heat, there were three heats with the top six from each going on to the final. This is a great achievement which members can be proud of. Particular thanks go to Bryan Sinclair, our Pipe Major and the leader who had the vision five years ago to start the Piping and Drumming course.
Having got a taste of competition the band are off to Rothesay on 22nd August to compete in the Rothesay and Cowal Games.
Lord High Commissioner's Guard of Honour
May 2015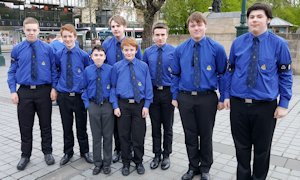 We had eight Seniors through in Edinburgh on Sunday 17th May to play a part in the Guard of Honour for the Lord High Commissioner before morning worship at the General Assembly of the Church of Scotland. A total of around 90 Boys mainly from Edinburgh & Leith and supported by other Battalion's like ourselves, formed up outside St Giles Cathedral. Thanks to the Boys who represented us, from 5th, 79th, 128th and 208th Glasgow Companies, they were a credit to the Battalion.

BB Leaders take on the Eggheads
September 2014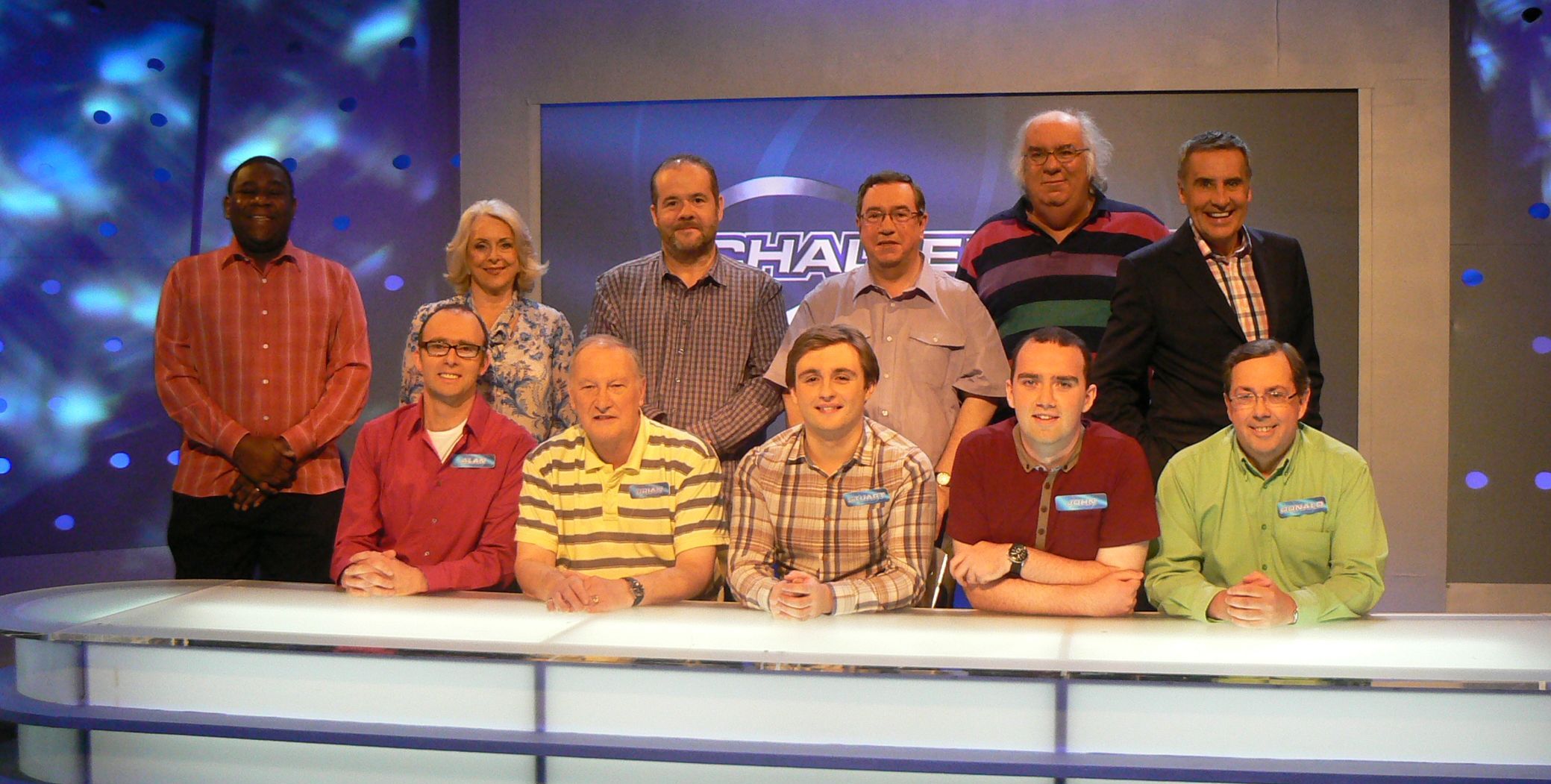 A team of BB Leaders from Glasgow and Coatbridge took on the Eggheads on the BBC show on 25th September.
Some time ago we asked for volunteers to put a team together to take on the Eggheads, some of the leading quiz brains in the UK, and we had six people take up the challenge. The five on the show are Alan Brown, 45th Glasgow; Brian Horne, 163rd Glasgow; Stuart Rankin, 15th Coatbridge; John Armour, 268th Glasgow; and Donald Armour, RO; our sixth volunteer and reserve was Jordan Watson, 1st Cumbernauld.
The team put in a good performance, knocking out two Eggheads along the way and taking them to sudden death in the final but ultimately losing out.
Battalion Pipes & Drums at Festival 2014
July 2014
The Battalion Pipes and Drums were playing at Festival 2014 at Glasgow Green at lunchtime on Friday 25th July, entertaining the crowds enjoying the Commonwealth Games atmosphere in Glasgow.
They'll be back in Glasgow Green on Saturday 2nd August and before that you can catch them in George Square on Wednesday 30th July at around 1pm.

Get Active Day
March 2013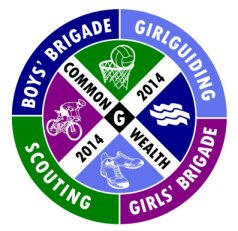 More than 500 youngsters aged from 5 - 11 from the Glasgow area took part in the 'Get Active Day' on Saturday 2nd March at the Kelvin Hall. Organised by The Boys' Brigade in Glasgow as part of the city's Joint Voluntary Youth Organisations Commonwealth 2014 project.
Boys' Brigade Anchor Boy & Junior Section members were joined by Girls' Brigade Explorers & Juniors, Girlguiding Glasgow's Brownies and Clyde Region Scouts Beavers & Cubs.
The activities included an obstacle course, line basketball, a treasure hunt quiz, team games and staff from Glasgow2018 came along to talk about Glasgow's bid for the 2018 Youth Olympics.
BB Supplies
August 2004
August 2023 update - The BB shop in Paisley has closed. Motherwell operate a supplies depot, during the session it is open wednesday evenings and saturday mornings, orders can be placed online at motherwellbb.supplies for collection.
Orders can be placed online from the BBUK supplies shop shop.boys-brigade.org.uk/